4 of the Best Motorcycle Touring Roads in the UK & Ireland
The go-to resource for planning your motorcycle tours and holidays. Find all you need to know about the top destinations, and routes to make your biking dreams come true.
Discover Motorcycle Tours now
Riding a motorbike can be one of life's greatest joys, and traveling with it is even more so. The world is big, so there's really no excuse to not get on your bike and go exploring.
One of the biggest questions, however, is where to go on your bike exactly? Well, the world is full of stunning locations for bikers, and there's something for all tastes. Whether you're heading on a day trip to have some quality alone time, to have a leisurely ride to take in the picturesque surroundings, or riding across the country to see what other locations have to offer, there's a motorcycle tour in the UK for you.
And if you're looking for the best motorcycle roads in The UK and Ireland, make sure to check out these fours routes!
1. Antrim Coast Road, Northern Ireland
This road is also known as the Causeway coastal route of Northern Ireland. It is 384km long, with plenty of suitable stop-off points along the way; whether that be for a bite to eat, some sightseeing, activities or even a good night's sleep in one of the many hotels along the route.
It stretches from Larne, right through to the Giant's Causeway, Bushmills. A Sunday morning is the perfect time for this, ideally before 1 pm, as roads tend to be quieter at this time.
Visitors to Northern Ireland who take on this route tend to want to take their time and admire the stunning scenery. Not only this, but many parts of the route have stone walls and blind spots, which if you're not as experienced, you'll want to take extra precautions.
2. The North Coast 500, Scotland
This route is Scotland's version of the famous Route 66 in the USA. It was made to show everyone the true beauty that lies within Scotland. It's a long route, at 512 miles (823 km), but don't let that put you off. It would take over 13 hours to complete, so be sure to take a few rests and pit stops to refuel along the way.
Many motorcyclists that have conquered this route often do it over the span of a week, doing a little bit every day. This means you can fully take it in, enjoy the ride, and fall in love with Scotland's highlands instead of just zooming past all of it.
Check out all the motorcycle tours in Scotland if you want to explore more than just the North Coast 500 on your bike!
3. The Wild Atlantic Way
The Wild Atlantic Way is a sensational journey full of astonishing views. It's a 1,550-mi (2,500 km) long road connecting Ireland to Northern Ireland, making it the longest coastal route in the world. This road is extremely popular for those wanting to explore Ireland and Northern Ireland, and one of the best routes for bikers.
It has plenty of natural beauty along the way, dark blue sea and, of course, a lot of greenery throughout the nine counties on the route. Many riders do one county a day, starting by getting a plane or a boat to Derry, moving all the way through the counties until Cork or vice versa.
There are even Wild Atlantic Way passports available for €10 in selected post offices. Although not essential, it can be a great way to document your trip. It's the perfect souvenir after your long journey.
4. Trans European Trail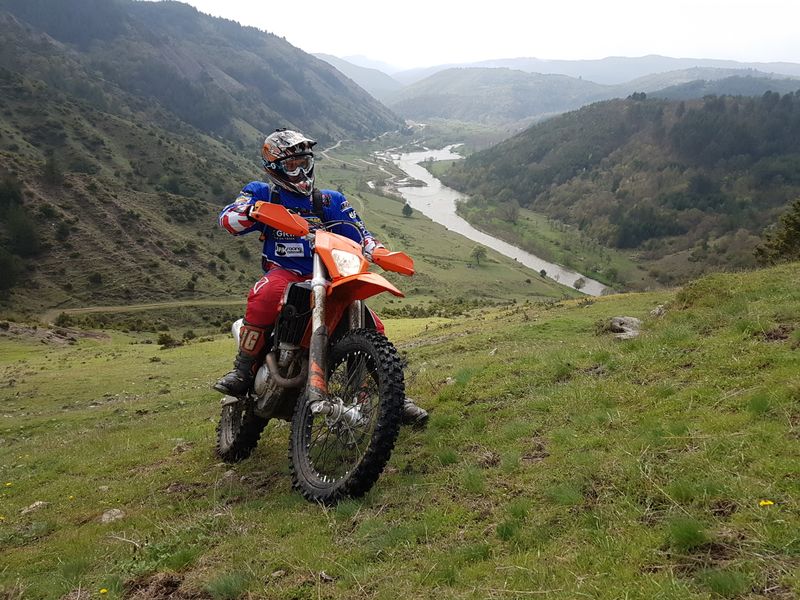 ​
Don't want to limit yourself to the United Kingdom? You certainly don't have to. In fact, you can visit a few more on the same trip, depending on how much time you have.
The Trans European Trail is an unpaved dirt track throughout Europe. With so many countries to travel through, there's no right or wrong way for how you choose to do it. It's a perfect route for those who don't typically like to follow the rules and prefer to go off the beaten path.
When traveling from the North of Europe, you can go east or west to start your Trans European Trail. When going west from the North, you'll be traveling through Sweden, Germany, the UK and then on to France where the western part of the track connects with the eastern part. The eastern part includes countries like Finland, Poland, Ukraine, Serbia, Greece and Italy. It's undoubtedly a long journey and can take a few months to complete, but it's totally worth it.
The creators of the Trans Euro Trail have created a GPS map to help guide you on your trip here. They also provide information on things to do during stop-offs in different locations, such as places to eat and sights to enjoy.
Stuart Cooke is a guest author from UniBaggage.com.