A Different Kind of Honeymoon: A Romantic Motorcycle Tour in Portugal
The go-to resource for planning your motorcycle tours and holidays. Find all you need to know about the top destinations, and routes to make your biking dreams come true.
Discover Motorcycle Tours now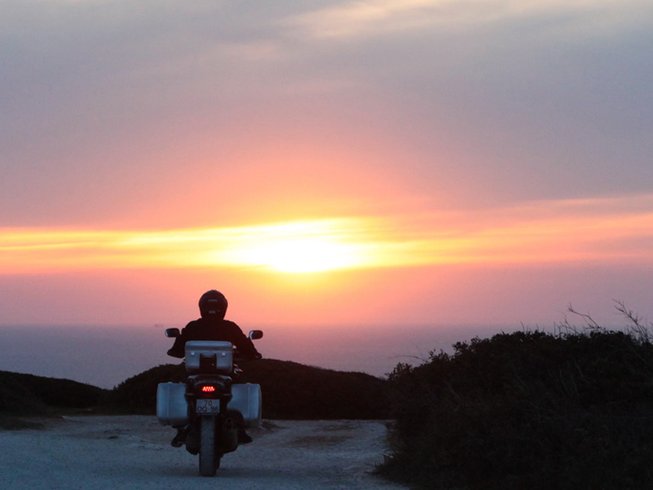 I never thought that one day I would take part in a honeymoon motorcycle adventure that's… not mine! But when it comes to organizing tours through paradise-like places with stops at romantic hotels, I am thrilled to spend those special days together with those who just got married.
Alice and George from California contacted me two months ago asking me if we could organize a different kind of honeymoon for them – a private motorcycle tour just for the two of them in the beginning of September. As an architect, Alice has always dreamed of visiting Lisbon and seeing its own 'Golden Gate' bridge, and George was thinking about a motorcycle tour in Europe.
Offhandedly, they decided that their honeymoon would be the perfect opportunity to make both of their dreams come true and celebrate their love in a unique way. That's how they chose to turn that sweet 'just married' period into an unbelievable motorcycle adventure in Portugal!
"Isn't it strange that instead of touring together, just the two of them, they decided to go on a tour with an agency?" – you might ask. At first, I asked myself the same question, but then I realized that this is the best way to forget about all the hassle of planning your own trip. Why not let someone else organize, perhaps, the best adventure of your life, while you enjoy the sweet days with your beloved person?
This was probably the most heartwarming motorcycle tour I've ever done in my life.
I wanted to make sure that everything runs smoothly. They arrived the very next day after their wedding and, after a transatlantic flight, they sure needed to get some rest. The next day, after Alice took her time to explore the architectural wonders of Lisbon, we headed to one of the most romantic places in Portugal – Coimbra – where the love story of D Pedro I and Inês de Castro took place in the XIV century. In the morning, we left for Crato.
Photo by Michael Warren
We moved along the winding road, zigzagging between forests and rivers in the heart of the mountains. The scenery is simply dazzling! This is the land of shale, which was used for constructing houses centuries ago, and a symbolic example of this type of construction is the picturesque town of Piodão. Alice told us that she had read something in her architecture studies about these houses, but she didn't expect them to be as impressive and beautiful in their simplicity as they are in real life. George made a joke about moving there and living a simple life baking bread and riding by the coast but stopped as Alice took it seriously and started planning relocation.
That's Portugal for you! Once you get to know it better, it steals your heart and soul and leaves saudade instead.
Majestic chestnut and oak trees and green meadows surround us while we ride through this rural area. Passing through this magic, enigmatic place in the silence of the mountain and by the side of this couple makes me feel like a guide to love.
No words can describe the feelings that invade us on a motorcycle tour for two. Their couple's love and confidence in each other, the power of the mountains and the harmony of the sea make us feel awake and alive.
And as for me, I tried to be as invisible as possible, much like the silent mountains. Alice and George told us that their honeymoon motorcycle adventure just couldn't have been better! They are already back in California, and we are already planning their next motorcycle tour next year - this time with a big company of friends, in love with riding as much as Alice, George and I.

---
One of the best ways to explore Europe's scenic coasts, historical towns, enchanting castles and fascinating culture in on two wheels. Head to BookMotorcycleTours.com and browse through our offer of motorcycle tours in Europe!