Motorcycle Tours in Vietnam: 6 Thrilling Road Trips to Add to Your Bucket List
The go-to resource for planning your motorcycle tours and holidays. Find all you need to know about the top destinations, and routes to make your biking dreams come true.
Discover Motorcycle Tours now
We've undoubtedly all seen images of Vietnam's compelling rice terraces, coffee plantations, water buffaloes, pagodas, scenic coastlines, and beyond-stunning countryside. Yet nothing can prepare you for the exotic beauty and unique cultural heritage the country exhales when seen up close.
If you're planning to travel in Vietnam by motorcycle, you'll probably feel right at home – the majority of the road users in the country are on two wheels. Furthermore, a motorcycle tour in Vietnam will allow you to take in the scenery at your own pace, reach remote corners that tourists rarely get to see, taste the local food, and mingle with the locals.
Hanoi and Ho Chi Minh cities are excellent starting points. After you've taken your time to fully explore their emblematic street markets and temples, hit the road and let the true adventure begin!
Just as the US has Route 66, Vietnam has its symbolic roads too. Join us as we explore some of Vietnam's best road trips that you should definitely add to your bucket list!
6. Ô Quy Hồ Mountain Pass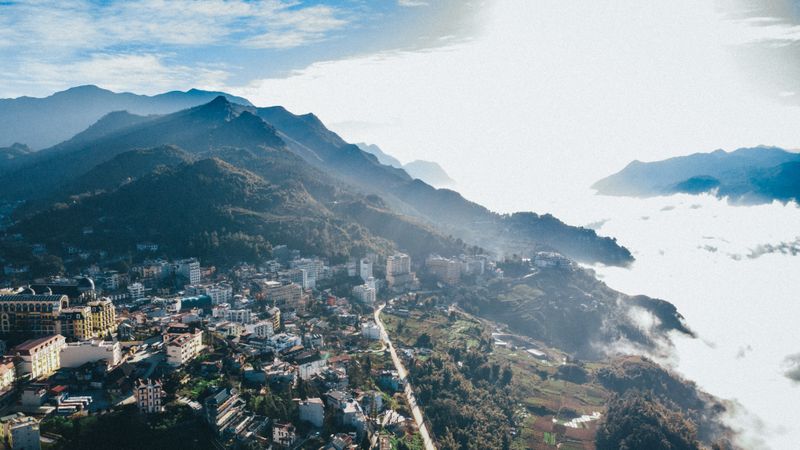 The longest mountain pass in Vietnam, Ô Quy Hồ spreads for about 31 miles (50 km) on National Highway 4D, connecting two provinces – Lào Cai and Lai Châu. Running along the Hoang Lien Song Mountains, the pass reaches the maximum altitude of 6,560 ft (2,000 m) in a place suggestively called "Heaven Gate."
The road passes by streams and waterfalls, against breathtaking panoramic views of the surrounding mountains. However, it does have its fair share of dangers – numerous hairpin turns lie perched over an abyss.
Ô Quy Hồ Pass is one of the major attractions in Northwest Vietnam, crossing the Hoang Lien Son mountain range, which is covered in white clouds almost all year round. Hence its other nickname – "cloudy mountain pass."
Best time to go: During summer. You will pass from the cool and cloudy weather in Lào Cai to the sunny, dry, and warm weather in Lai Châu. This is also when the road will be surrounded by colorful wildflowers.
Length: 31 miles (50 km)
Top sights: Thac Bac (Silver) Waterfall, Tram Ton (Love) Fall
5. Hanoi to Mù Cang Chải​
The most beautiful terraced rice fields in Vietnam are said to be found in Mù Cang Chải, a highland rural district in the Yên Bái Province, about 170 miles (280 km) from Hanoi.
Before heading out to see the highlands in Northwest Vietnam with your own two eyes, make sure you take the time to explore the bustling Old Quarters of Hanoi and fill up on the vibrant city's delicious street food.
One of the highlights of the trip is the Khau Pha Pass, one of the five great passes of northern Vietnam, alongside the above-mentioned Ô Quy Hồ Pass. This high-mountain pass rises 4,900 ft (1,500 m) above sea level in the Mù Cang Chải district and is about 20 miles (32 km) long.
The occasional thick fog, risk of landslide, and numerous hairpin turns make the Khau Pha Pass one of the most dangerous roads in Vietnam. Of course, this only adds to the thrill.
Best time to go: In autumn, between September and November
Length: About 170 miles (280 km)
Duration: At least 3 days
Top sights: La Pan Tan commune and its rice terraces, Lim Mong village and valley, the hot spring baths at Tu Le
Insider's tip: Glutinous sweet rice is a must-try specialty in these parts.
4. Ho Chi Minh – Dalat – Nha Trang
This series of enchanting coastal roads through rural Vietnam turns this scenic motorcycle road trip from Saigon to Dalat into an unforgettable journey.
The first section of the road takes you from Ho Chi Minh to Mũi Né, passing by mangrove forests, pristine beaches, and mountain scenery. Mũi Né is a laid-back beach resort that has long been considered "Vietnam's Hawaii."
From Mũi Né to Dalat, the road takes you from sea level all the way to 1,500 ft (450 m), passing through the Dai Ninh and Prenn passes.
If you have enough time on your hands, you can consider setting aside a day or two to explore Vietnam's Central Highlands, starting from Dalat.
The section from Dalat to Nha Trang is one of southern Vietnam's most scenic routes. You will pass by farmlands and rolling hills, and climb the Long Lanh (Shimmer) Pass before reaching the coastal resort of Nha Trang.
Best time to go: All year round
Length: About 370 miles (600 km)
Duration: At least 4 days
Top sights: Mui Ne Beach, Ke Ga Hamlet, Cu Chi tunnels (over 125 miles/200 km built by the Communist guerillas during the war), Prenn Waterfall
Insider's tip: Mũi Né Beach is famous for surfing, kitesurfing, and windsurfing. The best waves can be found between August and November.
3. Da Nang to Lang Co through the Hải Vân​ Pass
A bit shorter than the other roads on our list, this route is no less exciting. Lang Co is considered one of Vietnam's most beautiful beaches and is located just 19 miles (30 km) from Da Nang. It may be close, but to get to it, you must pass through one of the country's most stunning mountain passes – the Hải Vân Pass.
Its name, "Sea Cloud," comes from the mist that rises from the South China Sea. The 13-mile-long ((21 km) pass on National Route 1A is one of the most iconic roads in the world, with hairpin turns next to lush jungles, the sea on one side and the rest of Vietnam on the other. In 2005, a tunnel opened beneath the mountain, meaning that only adventure lovers ride through the Hai Van Pass these days.
Best time to go: Between April and July. This is when the water is warm enough to swim.
Length: 19 miles (30 km)
Top sights: Chan May Beach, Vong hai Dai (Sea Watchtower), Bach Ma (White Horse) National Park, Lap An Lagoon in Lang Co
Insider's tip: The seafood in Lang Co is as delicious as it is cheap!
2. Ho Chi Minh Trail
Pass by coffee plantations, scenic rice fields with water buffalos, reed-covered lakes, and fascinating hill tribe villages as you ride your motorcycle from Saigon to Hanoi on the Ho Chi Minh Trail.
Built during the Vietnam War in the 1960s, the Ho Chi Minh Trail used to be an intricate network of roads and tunnels in the western Trường Sơn mountain range. It connected the north and south of Vietnam through the neighboring countries of Laos and Cambodia. After the war, the trail was abandoned.
Starting with 2004, the Vietnamese government decided to turn the old trail into a highway. It is now completely changed and no longer offers the off-road motorcycle routes that it was so acclaimed for. Nevertheless, it is an exciting motorbike road trip through Vietnam's remarkable countryside. Thanks to its light traffic, motorbiking the Ho Chi Minh Trail is on every biker's bucket list.
If you start in Hanoi and go south, the first major attraction you'll encounter and one of the most spectacular runs on the Ho Chi Minh Trail is the Phong Nha to Khe Sanh road. The journey takes you near the Phong Nha Ke Bang National Park, which shelters the world's largest cave discovered so far – the San Doong Cave.
Best time to go: Between March and September. However, the Ho Chi Minh Road runs the length of the country and is quite mountainous, which makes it hard to determine the best time of year – severe weather changes may occur, which is why it is best to check the weather forecast before heading out.
Length: 1,168 miles (1,880 km) from Saigon to Hanoi
Duration: The average duration of the entire Ho Chi Minh Trail is 2 weeks, but the route can be split into smaller sections
Top sights: Phong Nha Ke Bang National Park, the history-filled cities of Hue and Hoi An, Dau Mau Bridge, the small fishing village of Bai Xep, Dalat and Ho Chi Minh cities.
Insider's tip: Dalat has some of the best coffee in the world.
1. The Road of Happiness in Ha Giang, Northern Vietnam
Its name alone is a good enough reason for you to come here. Highway 4C, better known as the "Road of Happiness," is a winding road in the northern Ha Giang Province. The hundreds of hairpin turns over precipices are certainly not for beginners, but those who dare venture beyond the touristy routes and into the unknown are in for a treat.
This remote, mysterious area borders China's Yunnan province and is the last frontier for bikers traveling through the country. To get from Ha Giang to the Đồng Văn Karst Plateau Geopark, you will pass by impressive limestone walls, granite outcrops, terraced rice fields, and friendly local hill tribes like the proud Black Hmong.
The highlight of the trip is the 12-mile (20 km) section between Đồng Văn and Mèo Vạc. This ride is said to be the most splendid in the entire country, climbing through the Ma Pi Lang Pass with numerous viewpoints above vertical cliff walls. Twisting and turning while perched on the side of a massive gorge, the road connecting the town is not for the faint-hearted.
Best time to go: Summer (June-July) and autumn (September-November)
Length: About 200 miles (330 km) for the round-trip
Duration: At least 3 days
Top sights: Dong Van Karst Plateau Geopark, Palace of King H'Mong, the many hill tribe villages on the way
Insider's tip: Plan your trip around the Dong Van Sunday Market and have freshly cooked Pho (traditional noodle soup).