The Ultimate Motorcycle Road Trip Tank Bag Checklist
The go-to resource for planning your motorcycle tours and holidays. Find all you need to know about the top destinations, and routes to make your biking dreams come true.
Discover Motorcycle Tours now
Road trips are a lot of fun, especially two-wheeled journeys, as they give us the chance to explore exciting new places at our own pace, give us a break from our mundane modern-day lifestyle, and they are by far the best way to enjoy the wind, the sun, the weather, and the picturesque locations along the way.
These days, more people are embarking on motorcycle road trips. But, unlike motorcycle enthusiasts who go on bike tours frequently, most first-timers fail to have a proper plan before beginning their trip. Planning for a motorcycle road trip follows a different set of rules. If you want your trip to be comfortable, you cannot carry a backpack or a suitcase. Also, you wouldn't want to turn heads for all the wrong reasons, as heaps of backpacks and suitcases will also ruin the aesthetics of your bike. Furthermore, there's really no place for impromptu plans.
Packing the essential items as well as the random stuff for a motorcycle road trip can either be done with a saddle bag, a magnetic tank bag or other small packing accessories that can be mounted onto two-wheelers. This article will guide you through the packing checklist that you need for a long motorcycle tour.
But before we get to that, here are some important questions you should ask yourself when you start packing:
What type of motorcycle are you riding?
The type of bike you choose for your road trip can make a big difference in your packing style. If you're choosing a cruiser that is specially built for long rides and has enough space for luggage, then you don't need to make too many changes to your motorcycle. However, if you choose a bike that people use for regular transport purposes, then you might need to make some modifications to it. For example, getting a different handlebar, a comfortable seat, guards, and better headlights are some common changes that you can make to your bike.
Are you riding solo or with a group?
If you're going on a solo road trip, then you will have to consider every possible prospect and be completely self-sustained for it. However, if you're going with a group of friends, then you can share some of your non-essential items with them. For instance, if you're riding with a group and one of the members already has a camera, you don't need to take one too. So, plan according to your situation.
What part of the world are you going to ride to?
You should also consider the location of your motorcycle trip. For example, if your bike breaks down midway, it might be hard to find a mechanic. Therefore, you should always carry a set of tools and spares with you for emergency repairs.
Guide to packing your tank bag for a long motorcycle ride
Once you're done deciding on how you're going to ride and where you're going, it's time to pack your tank bag. There are some essential items that you should keep with you during the road trip, such as first-aid kit, GPS system, toolkit, etc. Below are some tips that can help you complete your packing checklist:
Create a packing list
The first thing that you need to do is to create a packing list with the items that you want to carry along. Many people assume it's not important to create a list as they think that even if they miss out on taking something along, they will buy it during their trip. But you will not always be able to find the necessary items on the road.
Motorcycle trips along with your team or colleagues can also prove to be one of the best adventurous team building activities. If you're going with your colleagues on a motorcycling trip, create a list of necessary items and go over it a couple of times. For instance, you would not want to ruin the team trip by leaving behind one of the members due to flat tires. So, carrying tools to fix general motorcycle issues and other essential items does make sense.
Clothing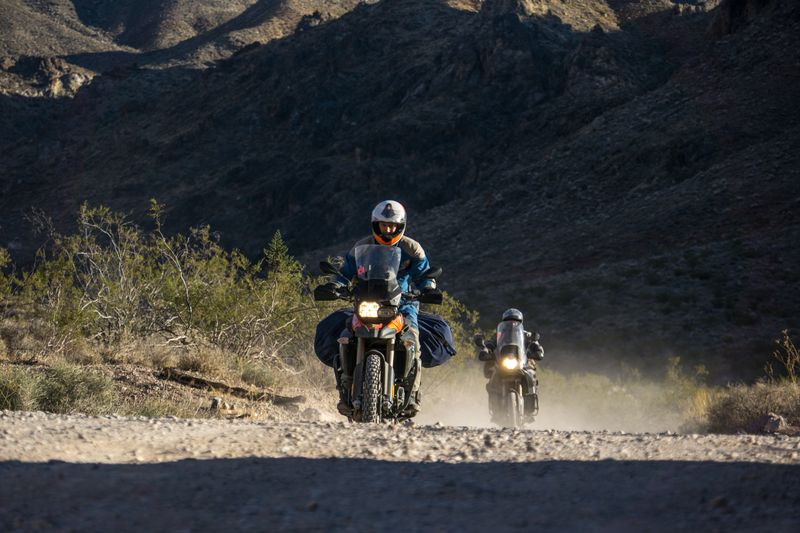 When it comes to packing clothes, people often fill their bags with all kind of clothes. But that's not the right way! You should always consider the weather along the road and at your destination, as well as the number of days you're going to be spending on the road. Also, you don't want to be over or under-dressed for any events. So, make a list of garments that are appropriate for multi-purpose, such as semi-formal clothes, to manage space in your tank bag.
Toiletries
You're going on a long road trip, so make sure you pay proper attention to your hygiene. You might find grooming items once you reach your destination or a specific location midway, but why take your chances when you can pack such items in your tank bag? Consider packing toiletries such as soap, shampoo, pharmaceuticals, toothbrush, sunscreen, moisturizers, grooming supplies, towel, etc.
Information & connectivity
You'll be too far from your home during the road trip, so a good rule of thumb is to carry a cell phone with you to communicate with your family members or friends.
You might get the opportunity to click some great moments during the trip, so prepare yourself for that as well. Check your list for items such as passport/ID, bike registration, camera, mobile phone, credit card, and most importantly, a GPS device or a map to help you out with the roads.
Food
Obviously, you would not want to starve during the road trip, so packing some food for the ride is a great idea. There may be instances where you will not find anything to eat for a long time. One important and well-known fact is that, just like motorcycles, the human body also needs fuel to function properly and stay alert. Food and water work as fuel for us humans. So, stock up on a good amount of healthy snacks to keep you functioning on the road.
Also, if you're planning on camping with your motorcycle, you may want some good food to cook over a campfire. For example, you can pack snacks, coffee, noodles, and other easy-to-prepare food items and treat yourself in a picturesque location.
If you are a motorcycling enthusiast or someone who loves traveling, you will agree that a long motorcycle road trip can be one of the most adventurous experiences in life. So, enhance this experience by planning ahead and packing the right things in the right way, and enjoy your trip to the fullest!
---
Use the tips listed above to plan ahead and join a guided motorcycle tour in an exciting destination!