11 Off-Road Motorcycle Riding Safety Tips
The go-to resource for planning your motorcycle tours and holidays. Find all you need to know about the top destinations, and routes to make your biking dreams come true.
Discover Motorcycle Tours now
Off-road motorcycle riding comes with a lot of challenges, but also plenty of adventure and fun to be had along the way. It is also very different from conventional riding, as there are no boundaries, no speed restrictions, no rules to be followed, no cops, and no pavements at all.
While this may sound interesting, off-road motorcycle riding can be very risky and difficult at the same time. Unlike riding on the streets, you should know the right techniques and use proper motorcycle accessories to stay safe and elevate your riding experience. We have rounded up a few off-road motorcycle riding tips that will come in handy and hopefully keep you safe when you hit the dirt roads.
1. Keep all the necessities with you
Keep a pocket-friendly toolkit whenever you're on the go. This will be of tremendous help should any mishappening or unforeseen circumstances occur. God forbid! But you have to think two steps ahead and be ready for any obstacles you might encounter.
You should always have a little understanding of the various repairing techniques. Also, make sure you check your tires and stock up on gas whenever you make a pit stop.
2. Use the clutch with two fingers
It is very important to keep control of the clutch and know all its functions. You should become accustomed to working the clutch by simply using your index and middle finger. This way, you can easily take hold of the clutch without having to adjust the grip over and over again.
3. Shove the bike towards the bottom
When you're riding off-road, you should always bend and thrust the bike in a downward direction as much as you can. However, you should make sure that your body is straight up. This will help you take control effortlessly when the bike is sliding down.
4. Tilt up for safety in deep stuff
When your vehicle is a little heavy, it's best to slow down when you're riding. On the other hand, if your vehicle is a little light, it is much more balanced when you're driving it at a good speed. When you're exerting a force towards the back, it gives higher power to the rear wheel, thus reducing the weight from the front and helping push the motorbike forward and riding it smoothly.
5. Avoid front brakes during turns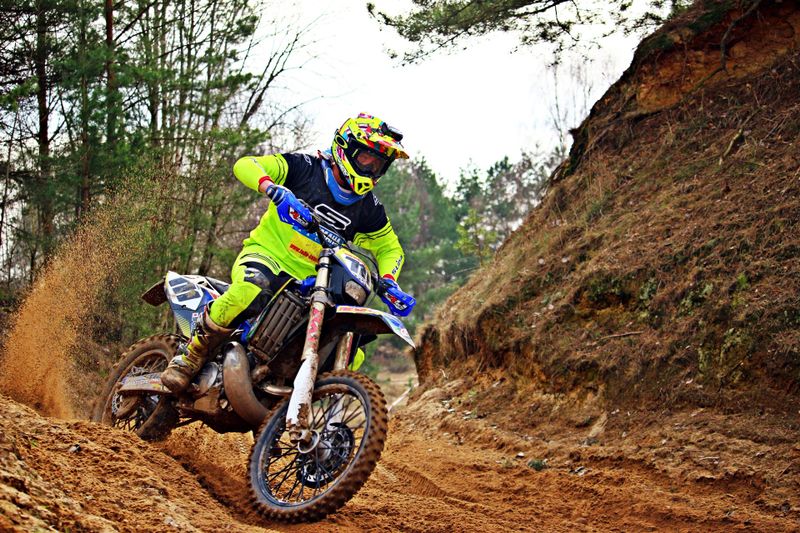 There is a great difference between riding on the street and off the street. Front brakes should be used more often when you're riding straight and without many obstacles. However, prior to any corner, you should avoid using your front brakes. Drag the rear breaks instead or simply slide down your rear tire to slow down.
6. Stand up
Not only does it make the riding easier, but it is also a great way of bringing the center of gravity to the front, as your body's weight will be supported by the foot pegs and not the seat. It is also a great impact bumper.
7. Focus on where you want to go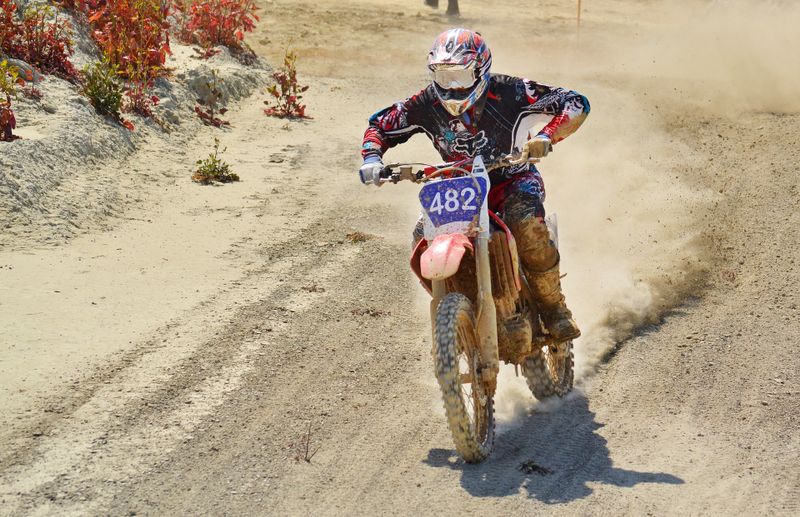 This essential tip is not just for off-road riding, but also for street riding. Always pay attention to the path where you want to go and not at the things where you don't want to go or hit. If your mind and sight will focus on the right direction, your body will follow and so will your bike. Practice hard so that you don't panic.
8. Sit far behind at corners
When you're at the corners, your body weight will be pushed forward at the front wheel. This means that the more weight there is, the higher the resistance and even higher the corner speed will be. Therefore, you should always try to sit behind, so that it is a little painless to slide the bike when you want to.
9. Weight the inside peg
If you wish to take a right turn, all you have to do is shove the inside peg. You simultaneously have to deviate your body mass in the outer direction to equally distribute it on the weight of the bike. That's how you have to take over your bike's operation without using the bars. The same has to be done in case you wish to take a left turn by weighing the left peg.
10. Take the responsibility to lead
It is everyone's mutual support and assistance that will help lead other people to cross all the hurdles while riding. You should also show the directions to the other people or at least the ones behind you so that they don't get separated from the group. This trick will help coordinate and keep the group together. It will also help avoid any possible accidents.
11. Indicate your group number
Since there are no two lanes involved here, you just might see someone coming up from the other side of the road. It is very important to signal inform them about the number of people who are there behind you. You should signal by raising your fingers to indicate the number of people. Or, if there's no one behind you, you can signal none. This is a great way to refrain from any collisions while you're riding off-road.
---
Now that you know these few tips, what are you waiting for? Drive off-road on some amazing adventure motorcycle tours!